Emergency Response Trailers – Mobile Command Centers
Firefighters, Police, and Emergency Management Personnel utilize Rich Trailers' Emergency Response Trailers as their communications, strategy planning, and organization hubs in the field. When there is an emergency or need to work at a remote location, one of Rich Specialty's Emergency Response Trailers will get the resources and planning hub where you need it right away. These emergency response trailers or mobile command centers are customized to help your professional team in the field perform at an optimal level. It is not merely about housing important police, fire, and emergency management equipment. These emergency response trailers or mobile command centers act as crucial information gathering and distribution centers in the field. Typically, we design and build emergency response trailers or mobile command centers to include sophisticated communications equipment, changing areas, kitchen areas, toilets, and showers. They often include ample desktop and meeting space to lay out and consider maps and plans. Call us about designing and building a Emergency Response Trailer or Mobile Command Center that will take your team's effectiveness in the field to the next level.
Mega Laundry Trailers with 60k Watt Generators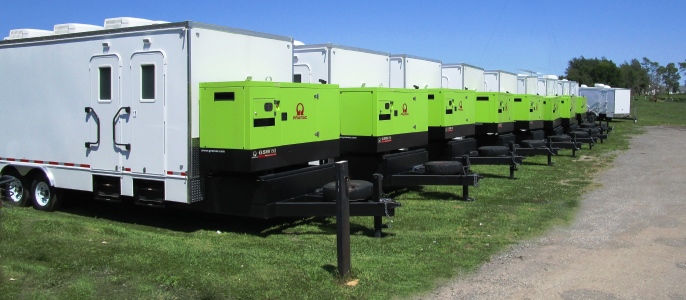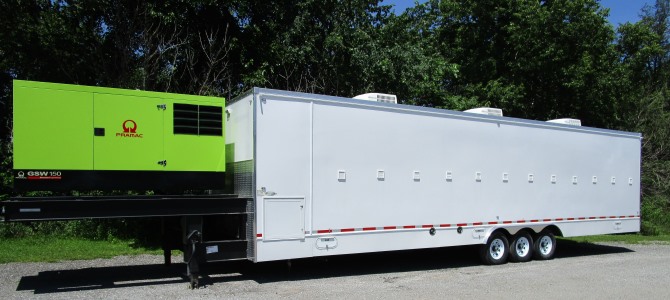 Rich Specialty Trailers has introduced a line of mega laundry trailers for use in commercial industry, disaster recovery, and camp & tourism. Each heavy duty triple axle trailer features a huge 60,000 Watt generator. All that power is needed to run the 24 sets of commercial grade stackable washer/dryers. Each washer includes its own dedicated water heater.
These mega laundry trailers have a super durable membrane roof that protects against all water leaks. It is double sealed on the edges and is protected with a 12 year material warranty. Laundry trailer interiors are outfitted with non-slip commercial rubber floors, durable fiberglass walls and ceilings, and low maintenance fluorescent lighting throughout. This trailer model also includes handy built in folding tables and linen storage cabinets which make it possible to wash, dry, and fold hundreds of laundry loads quickly and efficiently.
Rich Specialty Trailers is in its second decade of designing and building specialty trailers that solve problems. While there are a variety of time-tested floor plans available for all Rich Specialty Trailers, custom floor plans can be built to meet individual needs.
Whether you're thinking of rock solid restroom trailers, emergency response trailers, or laundry trailers, Rich Specialty Trailers are top quality, made to last, and always available at low Factory Direct discount pricing.
Exploring Emergency Response Trailers Mobile Command Centers?
Give us a call and we'll get you the information you need to make the process smooth and easy.  email:

info@richrestrooms.com

 or click

Contact Us