PORTABLE RESTROOM TRAILER MODELS
"Great restroom trailer for the value"…
"Good solid trailer, order process went smooth"…
"Real pleased with trailer, if I had a small problem Rich Trailers took care of it. Will buy from Rich Trailers again"…
"My customers are happy with the upscale features & quality of the restroom trailer"…
"Real happy with restroom trailers, my customers really like them, good service"
"Really nice quality product, will buy again, very happy"…
"Rich Trailers provides quality, easy to maintain restroom trailers that can hold up to years of use. Our customers love their products"
Restroom Trailers -Portable Restroom Trailer Models
Rich Specialty Trailers builds portable restroom trailer models of high grade Gel-Coat Fiberglass. Durability is ensured by using the same materials designed for high end boats to protect them against the elements.  In addition, we design our restroom trailers to have no rivets, seams, or any other entry points for water to get in. Therefore our careful choice of materials plus other design innovations guard against premature wear and protect your investment.
We offer our restroom trailers for sale factory direct. There is no minimum order requirement. Additionally, Rich Restroom Trailers has established a top position in the industry by producing and selling best in class, attractive, and durable restroom trailers. Finally we sell factory direct so great value is passed directly on to our customers.
We build our line of restroom trailers with both the fleet operator and the end user in mind. Most of all we strive to produce a durable and appealing restroom trailer that delivers a great restroom experience.  Fleet owners love our low maintenance design features. Our customers range from individuals in need of a single unit all the way to those building large commercial fleets of restroom trailers for use or rent.
Rich Specialty Trailers is built on great relationships. Call us anytime to talk about how we can help you. We can give you the details on what we have in stock or you can choose a trailer floor plan and we'll build whatever you need.  or use our

Contact Form

to request more information.
"Pacific" 2 Station Restroom Trailers
These spunky two station portable restroom trailers are a great start for outfitting your more formal special events such as weddings.  Their small size and light weight allows them to be towed to a site with a half ton pick up truck.  Included in the design of these quality restroom trailers is a large waste holding tank with an electronic monitoring system to check the waste level.  An above floor fresh water tank with an on-demand water pump can be built into these models.  Fleet managers (and owners in general) love how the water conserving sinks, toilets and urinals control the fresh water usage and reduce the number of waste tank pumpings.
The available variety of décor packages allows for choices in solid surface counter tops such as hand finished corian or stones such as quartz or marble. Sinks are available in stainless steel, porcelain or glass vessel in these restroom trailers. Built into the counter top (next to each sink) are convenient trash receptacles for guests to place their refuse beneath the counter top. This design feature keeps the sink area clean. Each of the private stations of the restroom trailer has occupied indicators and deadbolts for convenience and privacy.
SPECIFICATIONS:
PORTABLE RESTROOM TRAILER MODELS: "PACIFIC"
MODEL NUMBER: PP 78
WASTE TANK: 250 gal
CUSTOMER USES: 625-758
FRESH TANK: 100  gal
NUMBER STATIONS: 2
WINTER PACKAGE: AVAILABLE
RESTROOM TRAILERS SIZE: 7′ X 8′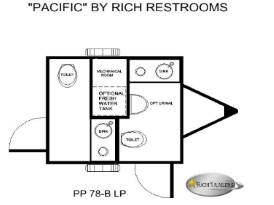 2 Station Restroom Trailers FS72
The Fleet Command FS72 two station is one of our most popular restroom trailers. It has two private stall rooms. The trailer can have both rooms designated as uni-sex rooms for the customer. An optional waterless or water flushing urinal can be installed in the male restroom which would then make the restroom trailers floor plan a male and female. If it is to be use at an all male construction site, then simply add a urinal to both rooms to make the restroom trailer a higher capacity "male use only" trailer.
Both restroom station doors are located on the curb side so if restroom trailers are set on the road curb, guests are not required to enter into the street to use the restroom trailer. With both entrance doors to the restrooms located on the curb side of the trailer, the client can use the facilities without having to walk out in the street.
The FS 72 floor plan is available to be built with several different decor packages and features to meet the needs of the client.  From a luxury special event to a tough construction site these restroom trailers can do it all.
PORTABLE RESTROOM TRAILER MODELS: 
MODEL NUMBER: FS72
WASTE TANK: 370 gal
CUSTOMER USES: 925-1121
FRESH TANK: 100 to 150 gal
NUMBER STATIONS: 2
WINTER PACKAGE: AVAILABLE
RESTROOM TRAILERS SIZE: 7′ X 12′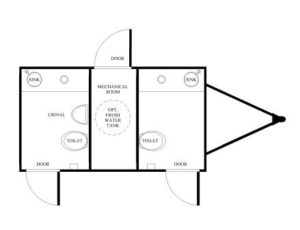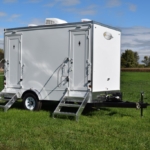 3 Station Restroom Trailers FS73
Privacy is key with these three station restroom trailers.  Each of the three rooms has its own private entrance with a sink and a toilet in each room.  The FS73 is standard with large full-width mirrors over the stainless steel sinks. Poly plastic base board allows the flooring to be easily mopped while protecting the wall boards from extra wear.   A minimum of a  1/2 ton pickup truck would be required to tow these 3 station restroom trailers.
The FS73 is one of our most popular restroom trailers for weddings and special events.  It is very versatile floor plan with 3 unisex rooms. You also have the option to dedicate a room for "male only" by installing a waterless urinal.  The large waste holding tank is corrosive resistant. Also, this model is offered with a heated winter package to allow it to be used in the cold of winter.
For use of these restroom trailers on a construction site, the industrial package is recommended. The industrial package includes such durable features as stainless steel mirrors which will not break like a standard mirror.  The counter tops are also a rust and dent resistant and practically indestructible stainless steel.  A aluminum metal interior trim package makes the interior tough and washable.
SPECIFICATIONS:
PORTABLE RESTROOM TRAILER MODELS: 
MODEL NUMBER: FS 73
WASTE TANK: 440 gal
CUSTOMER USES: 1100-1333
FRESH TANK: 100 to 150 gal
NUMBER STATIONS: 3
WINTER PACKAGE: AVAILABLE
RESTROOM TRAILERS SIZE: 7′ X 14′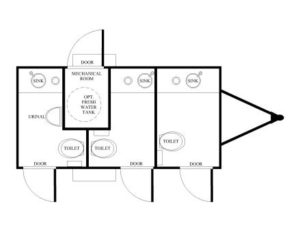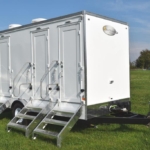 4 Station Restroom Trailers FS 754
If you are looking for the perfect wedding restroom trailer to accommodate the formal wear of the attendees this is the model for you.  The ladies side of these restroom trailers has a large vanity with a white porcelain sink set into a water proof solid surface counter top.    Each side of these restroom trailers, male and female, is roomier to allow for the glamorous  formal wear of event attendees.
The FS 754 model 4 station restroom trailer is the namesake for the Rich Specialty "Vegas" decor package that is ordered on many restroom trailers.  An outstanding decor matched with a perfect restroom trailer floor plan for your wedding needs. The female side of this trailer includes a large open area with both double sinks and a separate makeup counter top with a large mirror.  Therefore a makeup area is provided with an extra mirror and counter top to allow additional room the for hair and makeup touch up. Additionally the sinks are a heat resistant china porcelain with the easy push self closing and water conserving faucet. The women's area of the restroom trailer includes two toilet stalls with six panel lockable doors to provide plenty of privacy.  The door knobs on the stall doors are an easy grip turn lever. There are ceiling mounted and soffit mounted low amp draw and bright LED lights.  The suspended sink counter top gives the look of a restroom in a high end hotel.
The decor package has a bright and washable wall finish with a rubber base molding to allow easy mop cleanup.  Finally the rolled edge counter top is a hand crafted solid surface which can not be damaged by water use.
SPECIFICATIONS:
 PORTABLE RESTROOM TRAILER MODELS: 
MODEL NUMBER: FS 754
WASTE TANK: 605 gal
CUSTOMER USES: 1512-1833
FRESH TANK:100 TO 200 gal
NUMBER STATIONS: 4
WINTER PACKAGE: Available
RESTROOM TRAILERS SIZE: 7.5′ x 13′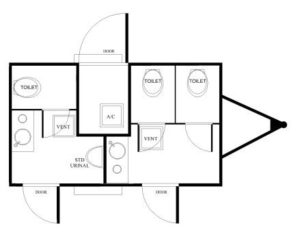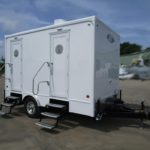 5 Station Restroom Trailers FS 85
These restroom trailers have a surprising number of stations smartly engineered into a 16′ floor plan.  The ladies side of this divided floor plan has two private stalls.  The gentlemen's side of this model is available with either two waterless urinals or two water flushing urinals. Each entrance door is fully framed on all four sides to guarantee long life even in the face of heavy fleet rental use.
These restroom trailers have all the same amenities you'd expect to find at the finest indoor venues.  Air conditioning and room heat  is thermostat controlled  and covered with a keyed lock box.  Winter packages can be built into the restroom trailer to take the worry out of putting it in service in cold weather.  Electric room heaters along with heat pads and wraps provide protection for the water lines and waste tanks which are built into the structure of the trailer.  Do you want hot and cold mixed running water at the sinks? No problem, an electric hot water heater is a very popular option.
Open and closing roof ventilation is provided on both the male and the female restroom sides. Covers are installed over the vents on the roof to protect the interior against rain, leaves, and other debris.
Choose from 3 distinct decor packages (Luxury, Star Tech or Celebrity) or go with the classic "Everest" décor package. "Everest" has a rugged fiberglass interior trimmed in a white poly plastic to make this finish rugged enough to handle the construction site client.  The walls and the cabinets are outfitted with washable poly and the stall doors completely washable and low maintenance. Lockable storage is provided in the base cabinet located below the sinks.
SPECIFICATIONS:
PORTABLE RESTROOM TRAILER MODELS: 
MODEL NUMBER: FS 85
WASTE TANK: 530 gal
CUSTOMER USES: 1325-1606
FRESH TANK:100 to 150 gal
NUMBER STATIONS: 5
WINTER PACKAGE: Available
RESTROOM TRAILERS SIZE: 8′ X 16′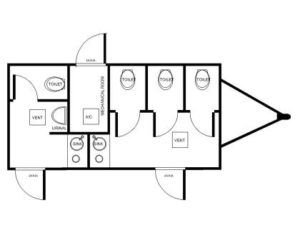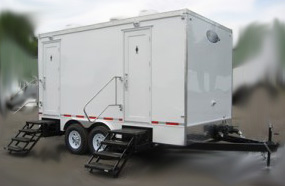 "Montana" 6 Station Restroom Trailers
The Montana, one of Rich Specialties 6 station restroom trailers, has a large ladies vanity with double sinks and an open floor plan. Each stall of the ladies side opens into a central room.  The mechanical room allows for a large 225 gallon supply of on-board fresh water.   Every one of Rich Specialties restroom trailers is fully insulated and is available with a winter package that includes heaters for the rooms and for the waste tank.
Montana offers a lot of functionality for the size. Measuring in at a modest 17′ box length, this model floor plan is super versatile with seven comfortable stations configured as four women's stalls and three men's stations when relying on the use of a city water supply. The floor plan configuration of this line of restroom trailers becomes 6 stations if on-board fresh water is added to the floor plan.
New advanced style LED lights means you never have to change a light bulb. These low voltage lights are low heat and are rated for 11 years running 24 hours per day.  Feel confident you can leave the light on.   These LED lights are located near each entrance door on the exterior of these restroom trailers enabling customers to clearly see the entrance steps at night or in low light. The steps on these restroom trailers are easy to set up and easy to store during transportation of the trailer.  The steps fold flat during storage but telescope up in to position when pulled out from under the trailer and locked down.  If the terrain is a little high the steps will self level while maintaining the top platform in a fixed position.
SPECIFICATIONS:
PORTABLE RESTROOM TRAILER MODELS: "Montana"
MODEL NUMBER: CT 817
WASTE TANK: 605 gal
CUSTOMER USES: 1512-1833
FRESH TANK: 100 to 200 gal
NUMBER STATIONS: 6
WINTER PACKAGE: AVAILABLE
RESTROOM TRAILERS SIZE: 8′ X 17′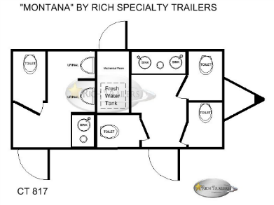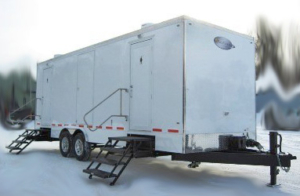 8 Station Restroom Trailers FS 88
"Lodge" restroom trailers are listed as an 8 station restroom trailer with an additional stall on the ladies side of the floor plan.  But this versatile plan allows for on board fresh water to be located on either the male or female side.  Order as your needs warrant.
All restroom trailers are standard with bright, white exterior fiberglass finish which give the portable restrooms a clean and crisp look in any location.  This dent proof exterior provides for a strong and durable exterior finish that can allow for private company graphics or paint.
The wide entrance staircases have a platform at the door and  are constructed of heavy grade solid steel.  Every entrance door is also equipped with stainless steel hand rail that easily swings into position for customer convenience and safety. Non bulb LED exterior lighting is located near the steps to provide  light during the evening hours. Each door of these restroom trailers has self closing arm and a hand pull.
SPECIFICATIONS:
PORTABLE RESTROOM TRAILER MODELS: 
MODEL NUMBER: FS 88
WASTE TANK:  680 gal
CUSTOMER USES: 1700-2060
FRESH TANK: 100 to 200 gal
NUMBER STATIONS: 8
WINTER PACKAGE: AVAILABLE
RESTROOM TRAILERS SIZE: 8′ X 20′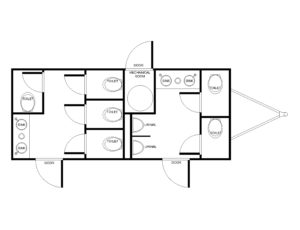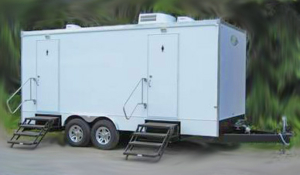 "Victoria" 8 Station Restroom Trailers
"Victoria", 8 station restroom trailers  can be manufactured in several finish decors to meet your needs for special events or construction sites.
As a 24′ restroom trailer this is a nice size to meet many of your larger special events such as wedding and sporting events.  The standard floor plan features water proof solid surface counter tops and washable interior walls.  The slide out steps are easily flattened and rolled into position under the trailer for transportation then pulled out and telescoped into set up position.  The steps on this provide stable footing by setting into position even on un-level terrain.  A stainless steel hand rail easily stores against the side of the trailer for transportation.
While most restroom trailers can be built with a LP heating system, these also come with optional electric lighting and heating systems.  The Lighting is all high efficiency LED.  The trailer is offered with self contained fresh water and waste tank and can be powered with a generator or shore line cord.  All walls and countertops are water and mar resistant and can be cleaned easily.
SPECIFICATIONS:
PORTABLE RESTROOM TRAILER MODELS: "VICTORIA"
MODEL NUMBER: CT821
WASTE TANK: 865 gal
CUSTOMER USES: 2162-2621
FRESH TANK: 100 to 200 gal
NUMBER STATIONS: 8
WINTER PACKAGE: AVAILABLE
RESTROOM TRAILERS SIZE: 8′ X 24′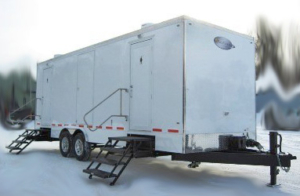 "Longfellow" 10 Station Restroom Trailers
Perfect for your larger events "Longfellow" ten station portable restroom trailer models have 5 female stalls and 3 urinals and two mens stalls. This restroom trailer can be built with on board fresh water tank of 225 gallons and is standard with LED low amp draw lighting. It is available with a gray rubber flooring or can be built with a spray durable flooring.
These ten station restroom trailers have wider, spacious toilet stalls on the women's side and hand formed solid surface counter tops with a convenient built in trash chute and lockable basket area.  White porcelain spring loaded toilet bowls operate with a peddle flush for hands free operation. Toilet paper dispensers are conveniently located in each stall. The men's restroom side is also equipped with water conserving porcelain urinals and hard poly washable privacy dividers.
Additional features are available for these portable restroom trailer models such as water flushing urinals with low flow flush valves, stereo with water proof ceiling mounted speakers, baby changing stations, paper towel dispensers or built in TV's. Use these restroom trailers all year round including cold weather by optioning the winter package with additional heaters.
SPECIFICATIONS:
PORTABLE RESTROOM TRAILER MODELS: "LONGFELLOW"
MODEL NUMBER: CT829
WASTE TANK: 1150 gal
CUSTOMER USES: 2875-3485
FRESH TANK: 100 to 200 gal
NUMBER STATIONS: 10
WINTER PACKAGE: AVAILABLE
RESTROOM TRAILERS SIZE: 8′ X 32′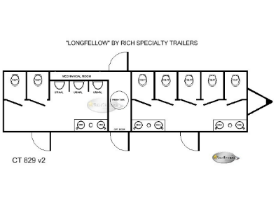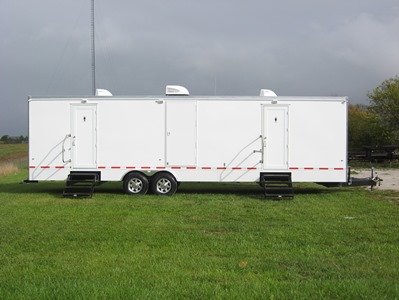 Exploring Portable Restroom Trailer Models & Specialty Trailers?