SHOWER TRAILERS
Contact Us

 For a
Factory Direct

Sales Quote





Shower Trailers & Restroom Shower Combo Trailers
Rich Specialty Trailers offers a range of shower trailers and specialty trailers to suit every need. From high use restroom and shower trailers to luxuriously appointed trailers for formal wedding venues.
When you purchase a shower trailer from Rich Specialty Trailers you are buying Factory Direct. That means you get a quality shower trailer with the floor plan and specifications you need and you get it at a great value.
We have many years experience designing and manufacturing quality shower trailers to fit your needs. Our design background and knowledge of building materials is the basis for our most popular shower trailer models. We can usually show you a shower trailer that meets all your needs. If you need something different, no problem, we'll just make it up for you special.
The standard Rich Specialty Shower Trailer is available in a variety of floor plans from private two stations to private ten station shower trailer floor plans. One of the featured shower trailer floor plans has eight separate showers, each with its own enclosed dressing area and a split floor plan for gender division. It includes four shower trailer stalls for the ladies and four shower trailer stalls for the men. This shower trailer also has two sinks for each side of the unit.
Available Features & Options for Rich Specialty shower trailers: 
-Standard gray water holding tank
-Large on board water tanks
-Large capacity water pumps
-Water Conserving Shower Heads (allow for extended use of the water tanks).
– Rich Shower trailers are built to offer Heated/Cooled Rooms as well as Hot/Cold Running Water.
-Wheel chair accessible shower trailers and portable restroom trailers are also available.
SWT 12 SH – 2 STATION SHOWER TRAILERS
These two station shower trailers can be built either with a single axle or tandem axle.  A large on board waste tank is standard along with a fresh water tank supply.  Each shower is a one piece molded fiberglass and is easily cleaned.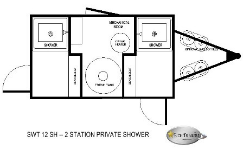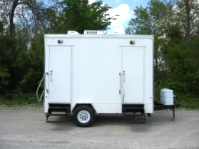 SWT 154 – 4 STATION SHOWER TRAILERS
These 4 room shower trailers allow privacy to all users.  Each room has a private entrance with a bench seat and wall hooks to hang clothes.  These shower trailers are durable and include LED interior lights so you rarely if ever have to change a bulb.  Both air conditioning and room heaters can be built into every room of these shower trailers.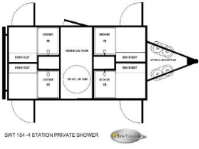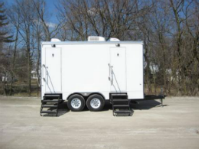 SWP 8520 – 6 STATION SHOWER TRAILERS
This 6 station shower trailer has a durable rubber, non-slip flooring and a water proof bench seat.  A gas on demand water heater is available along with room air conditioning. Rooms can be heated by electric or by gas heaters.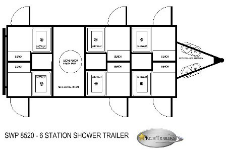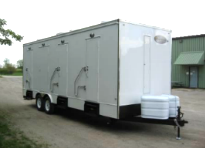 SWP 32 – 8 STATION SHOWER TRAILERS
The shower trailer model SWP32 is large enough to handle up to 1400 gallons of waste water.  Each stall has a private changing room with clothes hangers and a bench seat. Counter tops in these shower trailers are water proof solid surface with water conserving faucets.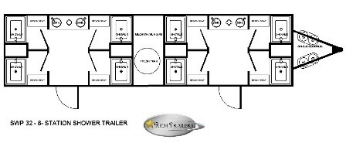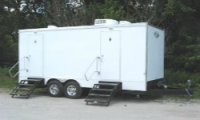 Shower Restroom Trailer Combos
These Combo Shower Trailers have toilets, sinks, and showers in each room.  They offer the ultimate in flexibility and utility since it can be used as a Restroom, Shower, or Wash Up Area, all depending on your needs.
SWT 12 C – 2 STATION SHOWER TRAILER COMBO
You get great utility by having both a shower and restroom facilities in one portable unit.  As a shower combo trailer the SWT 12C model has durable fiberglass interior and exterior and heavy molding package.  All ceilings are fiberglass, mar resistant, and water proof.  Available with either an electric or a gas water heater.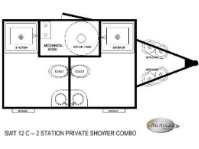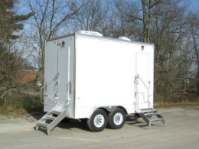 SWT 16 – 3 STATION COMBO SHOWER TRAILERS
These tandem axle shower trailers offer individual room privacy.   All stations have a toilets, sinks, power vent, towel holders.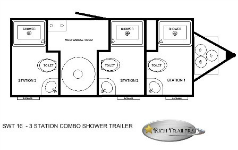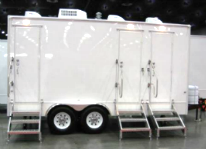 SWT 22 – 3 STATION SHOWER TRAILER COMBO
These shower trailers include toilet facilities. 
Plus, Extra Space to Shower and Change.Large 60″ showers offer plenty of room when you need it.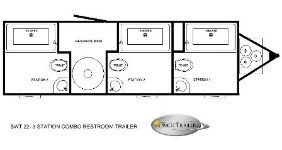 SWT 246 – 6 STATION SHOWER COMBO
6 Individual Doors to Private Shower and Changing Rooms.
Durable One Piece Fiberglass Shower Stalls
Stainless Steel Sinks with Single Lever Metered Faucets
Water Conserving Toilets
Large Mechanical Room with Large On board Fresh Water Tank, Water Heater and Water Pump.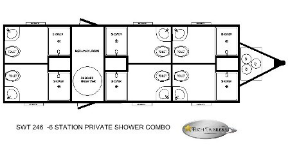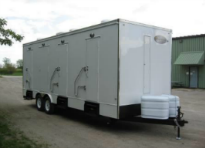 Exploring your Specialty Trailer options?
Give us a call and we'll get you the information you need to make the process smooth and easy.  email:

info@richrestrooms.com

 or click Contact Us