Rich Specialty Trailers builds mobile office trailers along with living quarters trailers, mobile command centers, and of course our staple portable restroom trailers and shower trailers. Whether it is a construction project or a natural disaster such as a flood, or wildfire…Rich Specialty has you covered.
Rich Trailers can go where other trailers would not dare. We build mobile office trailers to be highly portable and durable. If the thought of a modular office trailer is too limiting for you, check out our Mobile Office Trailers. We build our mobile office trailers to be durable since many see duty in some tough environments. Our mobile office trailers are made to be moved and they are in being used all over the world from Alaska to the Middle East. We sell factory direct mobile so you can get the design and features you want for on your mobile office trailer. You can have everything you need on board: Toilet, Shower, Kitchen, Office Area, even a Power Stand Alone Generator if you're going way out or just like to be self-sufficient.
Improve your Productivity in the Field with a mobile office trailer from Rich Specialty…
When you have important work to do at a remote site, having a comfortable, well organized space makes all the difference.  Rich Specialty Mobile Office Trailers offer the comfort and convenience of having well planned out space for getting the job done. Our mobile office trailers are attractive, durable, and highly portable. They are a sound investment because they improve productivity and effectiveness in the field.
A mobile office trailer from Rich Specialty can serve many utilitarian roles. Our mobile office trailers offer ultimate flexibility and portability when you need a planning and management hub close to the project. These trailers are designed to provide highly mobile, comfortable,  and organized work space for supervisors and directors in the field. Toilet, kitchen, heat, and air-conditioning, are just a few of the amenities available on your mobile office trailer.
Rich mobile Office Trailers currently see duty worldwide in various functional areas including:
Field Training

Outreach and Service Provision

Employee Recruitment

Private Meeting Area out of the Outdoor Elements

Mobile Home Base for Sporting events from Nascar to Stadium Events &  Marathons.
Rich Specialty Trailers designs and builds all types of specialized trailers.  Available models include a wide variety of mobile office trailers and other specialty trailers. We can build anything from standard bumper towable portable restroom trailers to mobile office trailers that pull as a gooseneck or 5th wheel.  Beyond that, we build every type of trailer from a single station toilet trailer or shower trailer to a 44' emergency management trailer that comes complete with toilet facilities, kitchen, and separate office & storage spaces.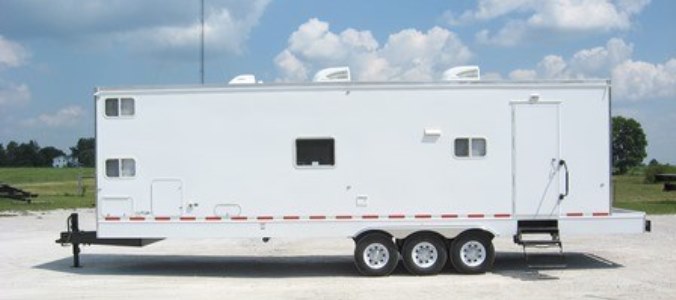 Bunk House Trailers
Check out our line of  "bunk house" trailers with self storing flip up bunk beds.  These trailers can be built with kitchens and laundry facilities.  Rich Specialty Trailers can have an open floor plan to accommodate just one classification of client or divided to serve the needs of  separate clients.  For everyone from the emergency firefighter to the staff at the camp grounds, these bunk house trailers can be designed to meet specific requirements.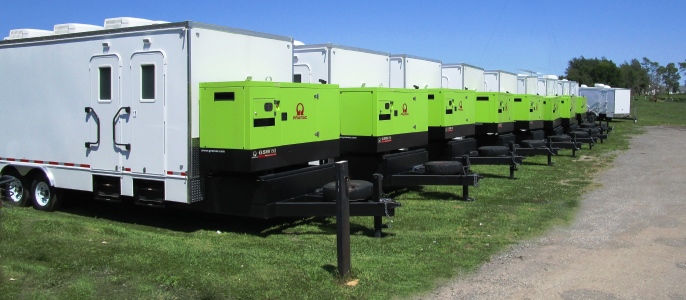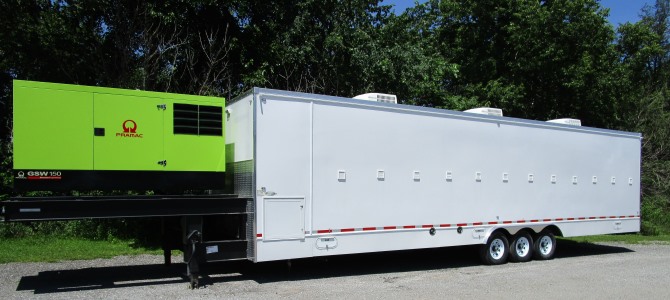 Mega Laundry Trailers with 60k Watt Generators
Rich Specialty Trailers has introduced a line of mega laundry trailers for use in commercial industry, disaster recovery, and camp & tourism. Each heavy duty triple axle trailer features a huge 60,000 Watt generator. All that power is needed to run the 24 sets of commercial grade stackable washer/dryers. Each washer includes its own dedicated water heater.
These mega laundry trailers have a super durable membrane roof that protects against all water leaks. It is double sealed on the edges and is protected with a 12 year material warranty. Laundry trailer interiors are outfitted with non-slip commercial rubber floors, durable fiberglass walls and ceilings, and low maintenance fluorescent lighting throughout. This trailer model also includes handy built in folding tables and linen storage cabinets which make it possible to wash, dry, and fold hundreds of laundry loads quickly and efficiently.
Rich Specialty Trailers is in its second decade of designing and building specialty trailers that solve problems. While there are a variety of time-tested floor plans available for all Rich Specialty Trailers, custom floor plans can be built to meet individual needs.
Whether you're thinking of rock solid restroom trailers, emergency response trailers, or laundry trailers, Rich Specialty Trailers are top quality, made to last, and always available at low Factory Direct discount pricing.
Exploring your Specialty Trailer options?
Give us a call and we'll get you the information you need to make the process smooth and easy.  email: info@richrestrooms.com or click

Contact U

s